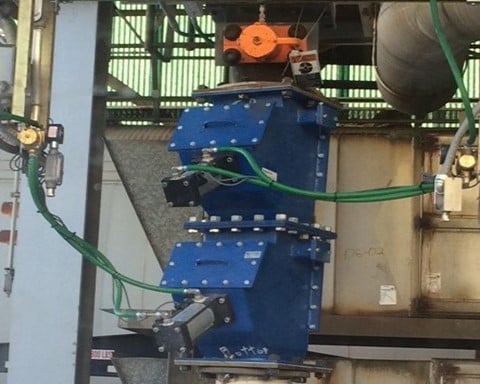 Double dump valves are available in both motorized and pneumatic actuation. To figure out which would be better for you we need to consider your application. A double dump valve is really two (2) valves with flapper plates in series controlled by the same mechanism. At least one of the flapper plates is closed at all time. The main things we need to know are the pressure, temperature, and flow rates along with the area classification the double dump valve will go in.
Motorized Double Dump Valve
A motorized double dump valve uses a cam rotated by a motor and gearbox to open and close each of the dump valves in series. The cam is designed so that at least one valve is closed at all time, thereby providing an airlock. The cam also provides a certain amount of cycles each minute, which controls the amount of material that is available to pass through the valve.
Pneumatic Double Dump Valve
A pneumatic double dump valve uses one pneumatic cylinder on each dump valve to control the operation of it. A timer is used to control the cylinders. The timer cycles cylinders so that one valve is closed at all times.
Differences Between Pneumatic and Motorized Double Dump Valve
Pressure - Motorized double dump valves are limited in the amount of pressure they can handle. The cam drive doesn't provide direct force on the flap plates. This means that higher pressures and weights will push the flap plate open. The pneumatic valve, however, provides direct pressure on the flap plate so it can handle higher pressures and weights.
Temperature – A motorized double dump valve has a gearbox and motor located next to the housing of the valve. At higher temperatures, this can cause issues with the grease in the gearbox and motor. Also, the cam drive uses wear plates that might degrade faster at higher temperatures. The pneumatic valve, however, can be supplied with high temperature seals on the pneumatic cylinder.
Material Flow Rates – Unlike a rotary valve, which is continuously passing material through, double dump valves fill one chamber while emptying the other. This significantly cuts down on the flow rate through the valve. A motorized double dump valve size is limited due to the cam design. A spool piece cannot easily be installed to increase the volumetric flow through each chamber. While with a pneumatic design, each flap plate is controlled by its own pneumatic cylinder, a spool piece can easily be installed to allow additional material to flow through.
Area Classifications – The electrical classification of the area the valve is being installed can also effect the valve selection. A pneumatic valve has very few electric parts and can be designed to be intrinsically safe. A motorized unit has an electric motor, so the motor must be selected to for the area classification.
When selecting the best double dump valve for your application, look at the pressure, temperature, material flow rate, and area classification.
---
To learn more about which dust collector, please contact our experts at 440-543-7400 or visit our website: www.dustcollectorhq.com.
---
To improve efficiency and safety, there is no substitute for an on-site inspection by an experienced expert. Click below to start with a free 20-minute phone consultation by clicking the button.