There are multiple ways to collect dust from the air. The most common are:
The Important of Particle Size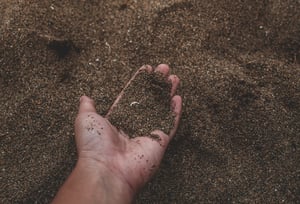 The particle size of the dust is important in all three of these techniques. Basically the larger the dust particles are the easier it is to capture. And inversely, the smaller the particle is the harder it is to capture, which means it's more likely to pass through the dust collector and out of the exhaust. Bags and filters build up a dust layer that allows air to pass but prevents particles from passing. Cyclones use centrifugal motion to capture particles, which means the larger and heavier the particle is the faster it spins out of the air-stream. Wet scrubbers use water droplets to increase the particle size of the dust, thereby making them easier to capture.
Particle Size Distribution
What this means is that to figure out how effective your dust collector is, a particle size distribution is required. For example, cyclones have a removal efficiency curve that tells you what percentage of particles will be removed at a certain particle size. This can be used to calculate the total removal efficiency when a particle size distribution is provided. Filter bags and cartridges get high dust removal down to around 1 micron in size; however, if most of your dust is sub-micron in size, they will not provide high removal efficiency. And wet scrubbers can be used to increase particle size, but the design must take into account the particle size.
So one of the first steps to correctly select and design a dust collection system is to run a particle size distribution test. This will allow you to pick the best equipment for your application and to make sure it will provide the removal efficiency you require.
---
Are you in compliance with the 2018 version of NFPA 68?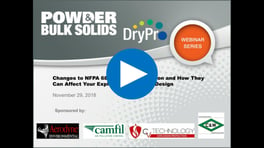 Simply click the button for direct access to the webinar to learn more about how to these recent changes may require modifications to your system.
---
To learn more about which dust collector, please contact our experts at 440-543-7400 or visit our website: www.dustcollectorhq.com.
---
To improve efficiency and safety, there is no substitute for an on-site inspection by an experienced expert. Click below to start with a free 20-minute phone consultation by clicking the button.