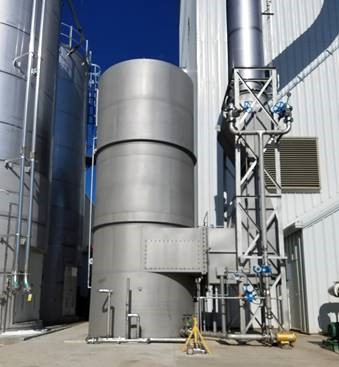 The main reason to use wet scrubbing for particulate removal is that you need wet scrubbing for chemical or fume removal. Wet scrubbers such as a packed tower are great for removing chemicals (contaminant) in the air, such as acids, bases, etc.
The Functions of Wet Scrubber
The wet scrubber sprays water droplets from nozzles which make contact with the water-soluble contaminant. Then based on the vapor pressure, the contaminant enters the water solution and leaves the air. Often times, the water has chemicals which react with the contaminant and forms a salt. This allows more of the contaminant to be collected. In packed towers, the packing is used to break up water droplets into smaller and smaller particles, thereby increasing the water's surface area and increasing the rate of removal of the contaminant.
The falling water droplets also come in contact with particulates. That water encloses the particulate as it makes contact, increasing the size and weight of the particulate. This makes it more likely that the combined droplet will fall to the sump and leave the airstream.
What is Blowdown?
The particulate then needs to be removed from the sump or else it can settle and eventually decrease the water in the system, which could cause operational issues. Abrasive material can wear out the instrumentation, piping, nozzles, and pumps. The wastewater created from the wet scrubber is called the blowdown. This blowdown liquid is removed from the sump either by diverting some from the recycle line or an overflow line to keep salts and particulate at a safe concentration. The particulate in the blowdown stream needs to be treated by a plant or municipal wastewater treatment plant so that it can be reused or disposed of. High amounts of solids in the blowdown stream can increase the price of treatment and cause maintenance issues on the equipment used for treatment. Many municipal plants will limit the water it allows to be treated.
---
To learn more about which dust collector, please contact our experts at 440-543-7400 or visit our website: www.dustcollectorhq.com.
---
---
To improve efficiency and safety, there is no substitute for an on-site inspection by an experienced expert. Click below to start with a free 20-minute phone consultation by clicking the button.