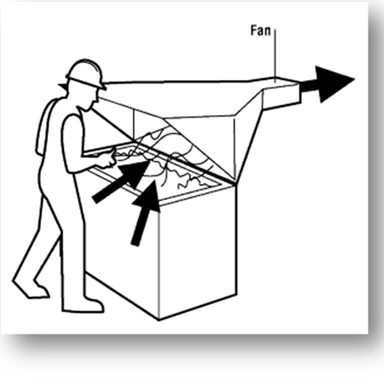 Hoods are probably most important component in a dust collection system because they will:
direct the dust away from the employees and equipment, even if the dust collector is not operating correctly

allow dust to be captured at the lowest airflow possible, saving you money
If a hood is improperly designed it will not capture the dust from an application, no matter how well your dust collector or fan is designed.
A few things to remember on hood design:
Place the hood as close to the dust generating area / equipment as feasibly possible to lower the airflow required

Use the Industrial Ventilation Handbook to help you design / evaluate your hood

Location

Geometry

Pickup velocity

If you use of local dampers for greater flexibility in the future remember they could allow un-intentional changes
Click here to get an easy how-to-guide for selecting the right dust collector for your specific application.
If you have questions about your hood design or your dust collection systems our consultants are here to help.
Contact Aerodyne at 440-543-7400 or dc@dustcollectorhq.com to help you problem solve your dust collection problems.