Dust collection systems pick up dust generated by process equipment and move it away for disposal or to be recycled. They use hoods to gather the air around the dust generation equipment. The dusty air is then sent to the dust collection equipment through ductwork. The dust collection equipment often consists of a pre-filter to help collect the dust followed by the main dust collector. An exhaust fan is often at the end and it powers the system by pulling the air through each of these components.
Dust Collector System with Ductwork
The first stage of the dust collection system are the collection hoods. Well-designed hoods are engineered so the dust generated by the equipment can be collected with the least amount of airflow possible. Once the dust leaves the pickup hoods, it travels through ductwork until it reaches the dust collector(s). In a well-designed dust collector system, the ductwork will be sized so that the airflow has enough velocity to keep the dust from falling out in the ductwork. Usually, the airflow needs to be between 4000 and 5500 FPM to keep dust from falling out. So, if the airflow in the system changes from its designed conditions the velocity in the ductwork will also change.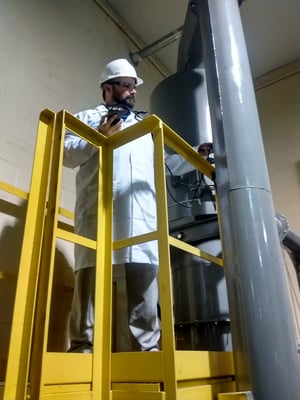 When The Airflow Is Too High
With too high of an airflow, the air velocity in the ductwork will increase. This will cause increased pressure drop in the system but it will also increase the erosion of the ductwork walls by particles making contact with the walls. Increased erosion of the duct walls will cause holes to develop, which will further affect the airflow in the system
When The Airflow Is Too Low
With too low of an airflow, the air velocity in the ductwork will decrease and could allow dust to begin dropping out and building up within the ductwork. This can cause the ductwork to become heavy and fall. If the dust is explosive, this dust can cause or feed an explosion and is a safety risk. If enough dust piles up, it could end up plugging the ductwork, thereby cutting off airflow through the ductwork.
---
To improve efficiency and safety, there is no substitute for an on-site inspection by an experienced expert. Click below to start with a free 20-minute phone consultation by clicking the button.