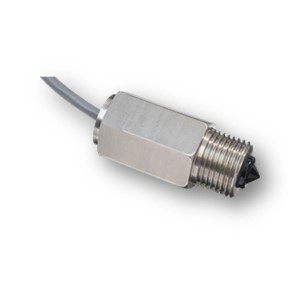 As maintenance staffs become smaller and have less time to do preventative maintenance, technology needs to step in and help.
Level Switches
That is where level switches in dust collector hoppers fit in. An airlock works by allowing dust from the dust collector to leave the vessel while preventing air from leaking in or out of the system. Some airlocks operate by emptying the hopper as soon as dust falls and some require a buildup above them to help seal the valve and provide motive force.
The main thing is, that dust often times will not constantly be falling through the valve. This means that walking next to a vessel won't always tell you if the airlock is operating correctly.
Installing a level switch in the hopper will help. The level switch measures the amount of material in the hopper and if too much is in the hopper it will provide a signal (alarm). This will tell maintenance that the airlock is not operating correctly and it needs to be investigated. Depending on the system's controls, the alarm can be a local alarm (light and/or horn) or feed into the central computer.
---
Dust collection systems can range from being fairly simple to extremely complex.
It's important to know that you have the proper system for your application. Some questions always come up when looking at dust collection systems.
To make life easier, we have put together some common questions we get asked along with answers and explanations. Have a look.
Volume 1:
Volume 2:
---
To learn more about which dust collector, please contact our experts at 440-543-7400 or visit our website: www.dustcollectorhq.com.
---
To improve efficiency and safety, there is no substitute for an on-site inspection by an experienced expert. Click below to start with a free 20-minute phone consultation by clicking the button.