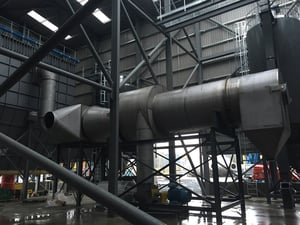 Because of their overall effectiveness and reliability, baghouses and cartridge collectors are the most widely used dust collectors in industry today. The filters in these systems are very effective at capturing several types of particulate matter and have the benefit of being able to be regularly cleaned, which keeps overall system efficiency at peak levels.
But, some types of dusts can prove to be problematic for filters. For instance, fibrous dusts, such as those generated in paper or textile processing facilities, can become embedded in filter media and fail to release during cleaning cycles. Wet or sticky dusts that are common in food processing applications or in facilities with high humidity can provide similar challenges with wet or sticky particulate material becoming caked on the filter surfaces. Many types of filter media are also adversely affected by being exposed to moisture because it may cause the filter to degrade rapidly, allowing holes to develop.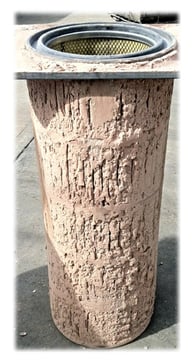 With so much of the efficiency of a dust collector relying on the integrity of its filters, any circumstance that might allow the filters to become impeded with wet, sticky, or fibrous material needs to be prevented. If not, the entire system will experience higher pressure drops, lower airflows, decreased efficiency, and possibly lead to unsafe working conditions or violations of air emission permits.
One proven method of keeping filters from becoming impeded by problematic dusts is to install a pre-filter cyclone in the dust collection system. The cyclone is designed to remove larger, heavier dust, while allowing smaller particles to pass through the cyclone and through the filters. In many applications, 80-90% of the particulate matter entering the cyclone is removed, which is a significant reduction in overall system loading. This is especially true when dealing with wet, sticky, or fibrous dust. With this decreased volume of dust reaching the filters, filter life is extended, with cleaning and replacement needed less frequently. This means reduced maintenance cost while sustaining optimal operating efficiency.
To learn more about pre-filter cyclones, click on the button below.