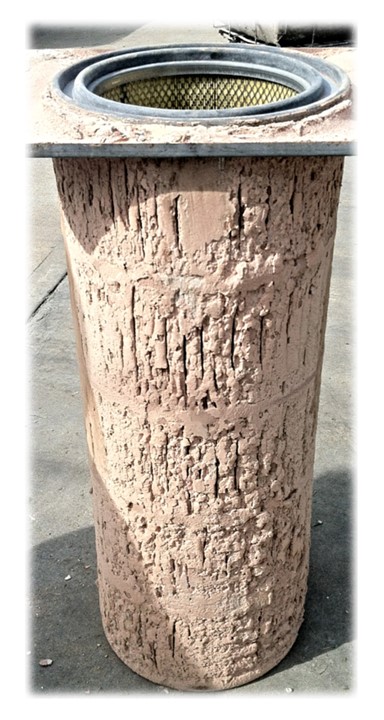 Heavy dust loading in the dust collector leads to high maintenance dust collectors. Since most dust collectors are fabric filters (baghouse, cartridge collectors, shakers, etc.), heavy dust loading will cause/require high frequency of cleaning of the filters. Most filters are cleaned by injecting high pressure air into the clean side, causing the filters to expand a bit. This causes dust to fall off the filters. Filters wear out due to the frequent expanding and contracting. So the more often you have to clean a filter, the faster the filters will wear out.
Pleated Filters
This is made even worse if the filters are pleated. Pleated filters have valleys and ridges which increase the surface area available for air to diffuse through the filter. However, high dust loading can cause the pleated filter valleys to fill up and not properly clean during a cleaning cycle. This will severely restrict the surface area available for airflow, which will lead to higher velocities through the filters. A higher velocity increases the chances of dust getting through the filters. This can cause holes to develop in the filter. It can also cause dust to plug a pathway through the filter, thereby further restricting airflow. It can also cause a decrease in removal efficiency.
So if you have high dust loading in your dust collector, it might be beneficial to install a pre-filter to increase filter life and make maintenance much less of a hassle.
---
Pre-filtering may reduce operating and maintenance costs by extending bag or filter life and improving removal efficiencies. This video discusses five warning signs that your dust collection system needs a pre-filter.
If you prefer this valuable information in white paper form, get our whitepaper, Top 5 Reasons to Use a Cyclone as a Pre-filter.
---
To learn more about which dust collector, please contact our experts at 440-543-7400 or visit our website: www.dustcollectorhq.com.
---
---
To improve efficiency and safety, there is no substitute for an on-site inspection by an experienced expert. Click below to start with a free 20-minute phone consultation by clicking the button.