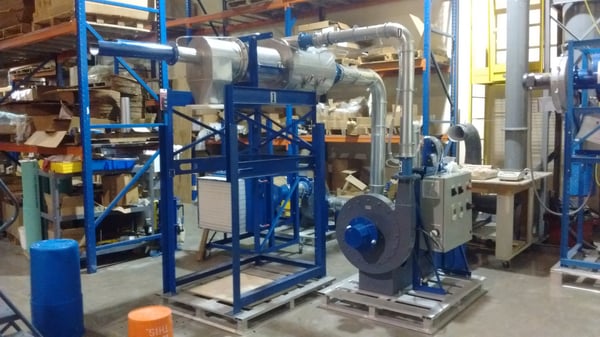 The use of clamp together ductwork has increased over the past few years. There are multiple suppliers of clamp together ductwork which helps to keep the prices down. Clamp together ductwork is easy to design and install.
The Benefits of Clamp Together Ductwork
Easy to design - One of the main benefits of clamped ductwork is that extremely accurate measurements aren't required. The clamp together ductwork allows you to adjust the length. This makes installation of the ductwork much easier than standard flanged ductwork. So when you are designing your ductwork, you just sketch the ductwork out. From the sketch you figure out the pieces that you require and then order them from your preferred supplier.

Easy to transport - Clamp together ductwork is also easier to transport, as the ductwork usually comes in 5 foot sections.

Easy to install - When it comes time to install the ductwork, all you need to do is begin installing it and trim any pieces that are too long.

Ideal for mobile systems – Portable applications that require frequent disassembly and re-assembly.
The Restrictions of Clamp Together Ductwork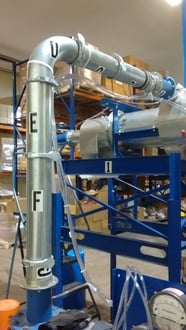 One thing to be aware of is that clamp together ductwork cannot be used as the ductwork between a dust collector and the no-return/ isolation valve. NFPA specifications require that the ductwork be flanged together and strong enough to prevent a breach in case of an explosion. This means when you are designing and installing the system, this ductwork needs to be ordered as flanged ductwork. The no-return / isolation valve will have specifications on the distance it needs to be from the dust collector. They may also have guidelines on elbows etc. Most clamp together ductwork suppliers offer flanged ductwork too. So you just need to order the required flanged ductwork when you are ordering the rest of your ductwork.
To learn more about which dust collector, please contact our experts at 440-543-7400 or click on the button below to get our Dust Collection System Evaluation Guide.