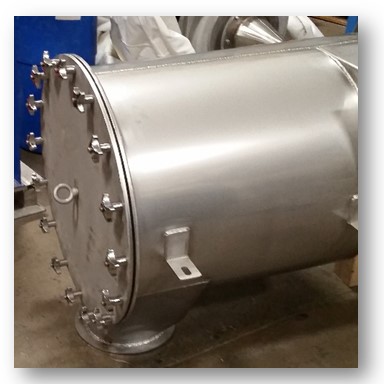 Cyclone maintenance can often be difficult. Traditional vertical cyclones are tall with long sloping hoppers making access for maintenance limited. Additionally, confined workspace can require special hardware to clean. Smaller versions can be disassembled but may require the unit to be disconnected from the airlock and duct work for cleaning procedures.
OSHA Special Procedures Requirement
OSHA requires companies to have special procedures for "confined space entry". Equipment that is large enough for an employee to enter fully and is not designed for continuous occupancy and has limited or restricted means of entry or exit is considered confined space. If a person has to go inside, they often require a "permit to enter". This could include having a dedicated person outside. While if the worker only needs to reach inside, the requirements may not require as stringent precaution or possibly even a permit.
Horizontal Cyclones – Removable Backplate
However, horizontal cyclones (as manufactured by Aerodyne Environmental) have a removable backplate. This allows access to the cyclone internals without disassembly and disconnecting of the cyclone. Small and medium size units also allow access without having to fully go inside the cyclone. Many units are small enough that normal humans can't even fully enter. So full confined space entry procedure may not be required. The company's confined space entry policy should be review to see what is required.
---
GPC Dust Collector Spec Request
The GPC Dust Collector is an efficient way to handle your dust collecting needs.
---
Dust Collection Deathmatch: Baghouse vs. Cartridge
Trying to decide whether to use a cartridge collector or baghouse in your dust collection system? Find out the four factors that separate the baghouses and dust cartridges.

---
To learn more about which dust collector, please contact our experts at 440-543-7400 or visit our website: www.dustcollectorhq.com