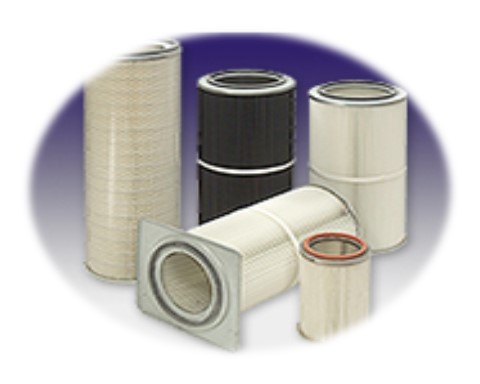 Baghouse filters are great for dust collection; however, if they develop a hole, then there is a clear path for the dust to take through the filter. Over time, the hole will increase in size, allowing more and more dust through. Filters with holes decrease the removal efficiency of the dust collection system and could violate your air permit.
The filters in a baghouse are the primary dust collecting component. The filters build up an initial layer of dust, preventing dust from penetrating the filter while allowing air to pass through. As the dust layer increases in thickness, it is harder for air to pass through. This is measured by an increasing pressure drop. Since most dust collection systems don't use Variable Frequency Drives (VFDs) and airflow transmitters to control the airflow, the airflow through the system will decrease as the pressure drop across the bags increases. Most baghouses use compressed air blown down the bag, to expand the bag off its cage to jar the most recent layers of dust off the filter. Other baghouses use a shaking cycle to remove the top layer of dust.
Over time, the constant expanding and contracting of the bag during the cleaning process could cause a hole to develop in the bag. There are a few different ways for the bag filter to develop holes:
Gradual expansion of natural gaps in the filter during the cleaning process.

The bag being caught and ripped on the metal cage during the cleaning process.

High temperature causing localized failure of the filter.

Abrasive dust gradually wearing out filter materials.

High velocity of the air gradually wearing out the filters.
There are bag break sensors available on the market that will let you know when they detect a bag break. Often, this is done by measuring the amount of dust particles after the baghouse and when the concentration suddenly jumps, an alarm is set. Certain baghouse controllers will measure the compressed air used during the cleaning process. From this, they can tell which row of bags have a hole so you can replace only a row of bags instead of all the bags in the baghouse.
A yearly maintenance inspection of the baghouse will help you avoid operational issues that could develop throughout the year. This can prevent you from getting a fine or having to shut down the system in an emergency.
Find out more.