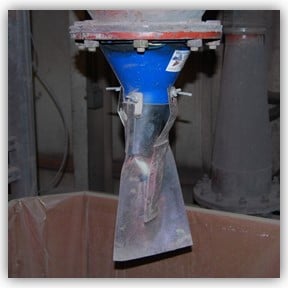 Do the rotary valves under your dust collectors cause maintenance headaches? Are they clogging? Are you having to drop everything and assign extra labor to fix them?
The disadvantages of Rotary Valve
Most dust collectors are equipped with a motor-driven rotary airlock valve that empties contents from the hoppers. Rotary valves have been used for many years and are probably the most widely used airlock design. However, maintaining rotary valves is difficult and time consuming. These valves run continuously, regardless if dust is present, which leads to wasted electricity. In addition, the valves can wear out rapidly, resulting in costly repairs and replacements.
Best Alternative: Aerodyne Vacu-Valve ®
A highly cost-effective alternative is Aerodyne's Vacu-Valve ® Trickle Valve System. The Vacu-Valve relies on the negative pressure of the material handling system to hold the duckbill sleeve closed. As the dust or material builds up, the sleeve is forced open, allowing the contents to discharge. Once emptied, the negative pressure then immediately closes the duckbill again. This trickle valve system requires no lubrication, power, or controls. Materials that would normally jam or wear out a rotary airlock valve, the Vacu-Valve handles with ease. There is a variety of duckbill sleeve options designed for specific applications; and the Aerodyne Vacu-Valve ® is available in an open or closed design, to further accommodate the particular application.
Aerodyne's Vacu-Valve ® is the solution! Have a look at this infographic and to learn how the Vacu-valve solves these issues and improves the discharge efficiency of your baghouse, filters and cyclones.
---
How Do Vacu-Valve Dust Valves Work?
---
---
To learn more about which dust collector, please contact our experts at 440-543-7400 or visit our website: www.dustcollectorhq.com.
---
---
To improve efficiency and safety, there is no substitute for an on-site inspection by an experienced expert. Click below to start with a free 20-minute phone consultation by clicking the button.