A manufacturer of grinding wheels in Niagara Falls, N.Y., needed to replace an existing dust collector used to collect dust coming off a rotary kiln. Initially, a bag house collector was considered to be the obvious solution. However, because the problem involved high temperatures – 700° F and above – specific efficiency requirements, moisture content problems, and future maintenance issues, the purchase of an Aerodyne SplitStream grinding dust collector was justified.
Aerodyne SplitStream™ Cyclone Dust Collector
The volume of gases being handled was estimated at 4,000 CFM at 700°F, according to the specifications of their previous cyclone. Using this information, a S4500 SplitStream grinding dust collector was selected and installed.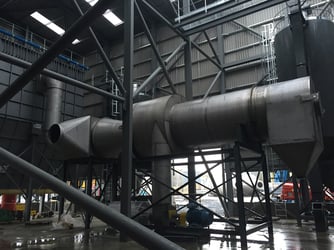 When the collector was started and the flows were checked, the company discovered that only 2,500 CFM at 500°F was needed to ventilate the kiln. Even at this lower-than-expected inlet flow rate, the results were excellent. No visible carry-over was detected, and the SplitStream dust collector captured materials much finer than previously collected.
The plant was satisfied it had made the correct decision and avoided the headaches and maintenance issues of a bag house. After several months in operation, abrasion wear was not evident on the collector. Consequently, the company ordered two more Model 4500 SplitStream grinding dust collectors.
The lack of a filter media and Aerodyne's unique design make the SplitStream collector perfect for applications involving high temperatures and abrasive materials.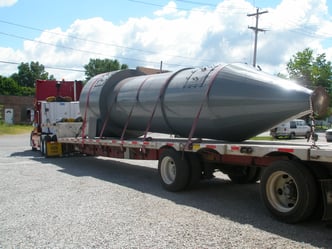 The Aerodyne SplitStream dust collector achieves high efficiency by forcing dirty gases into a powerful centrifugal motion. The centrifugal action throws dust particulate out of the gas stream. A secondary air stream carries the dust particulate to the hopper, keeping dust away from the collector walls and reducing sticking and abrasion. As a result, the SplitStream dust collector virtually eliminates maintenance problems common to other types of cyclones. The prevention of particulate contact with external walls is a major factor in the unit's ability to achieve high efficiency ratings.
---
To learn more about which dust collector, please contact our experts at 440-543-7400 or visit our website: www.dustcollectorhq.com.
---
---
To improve efficiency and safety, there is no substitute for an on-site inspection by an experienced expert. Click below to start with a free 20-minute phone consultation by clicking the button.