As regulations to minimize dust emissions became more stringent, the reliance on filter media became more prevalent. This means baghouses and cartridge collectors have become the most common dust collectors around.
Dust Collector Filter
The filters allow air to pass, while dust is captured on the filter surface area. A filter cake of dust forms, allowing the highest removal efficiency of the filters. Periodically, the filters will be cleaned to drop dust off the filters/ filter cake, allowing more air through the filters. The higher the concentration of dust, the faster the filters will require cleaning to keep the pressure drop down. Every time the filters are cleaned the fabric of the filter wears a bit. So, if you can minimize the cleaning, then the filters will last longer.
Cyclone Pre-Filter and Dust Collector Filter
Cyclone pre-filters capture a high percentage of the dust before it even gets to the filters; therefore, allowing less clean cycles on the filter media. Cyclones use centrifugal force to capture dust and droplets and remove them from the airstream. Unlike filters, the higher the concentration of dust in the airstream, the better the cyclone performs. Cyclones provide very good removal of larger dust particles, often getting removal efficiencies as high a 99% for 30-40 micron dust particles. But they do remove lower amounts of smaller particles. So the cyclone is a perfect companion for dust collection filters as they will remove most of the larger particulate. This can often be 80-90% of the total dust loading of a system by weight. The cyclone pre-filter then allows the filters to deal with only the fine dust that gets past the cyclone. The lower loading of dust on the filters allows the filters to last longer and conserve energy as the cleaning cycle isn't used as much.
Compact Cyclones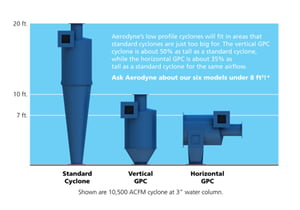 Compact cyclones, such as the Aerodyne GPC, allow cyclone pre-filters to be used in existing facilities where larger (taller) cyclones won't fit. The Aerodyne horizontal GPC cyclone provides one of the most compact designs - often ⅓ the height of traditional cyclones. This can often allow the cyclone to be installed inside or in smaller areas of an existing system. Traditional cyclones typically require outdoor installation, unless the facility has high ceiling.
So if your filter dust collection system is experiencing operational issues, look into compact cyclone pre-filters as a possible solution before you decide to scrap your current unit and install a new one.
---
5 Signs Your Dust Collection System Needs a Pre-Filter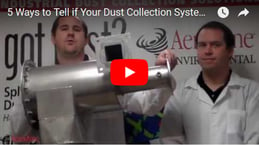 Watch the video from the Dust Efficiency Clinic discusses how using a pre-filter will optimize your dust collection system.
---
To learn more about which dust collector, please contact our experts at 440-543-7400 or visit our website: www.dustcollectorhq.com.
---
To improve efficiency and safety, there is no substitute for an on-site inspection by an experienced expert. Click below to start with a free 20-minute phone consultation by clicking the button.