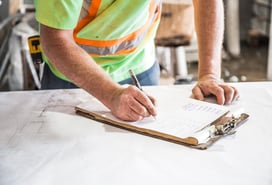 We all know that getting the oil change in our car regularly is important to the car being able to get you around when you need it. However, your dust collector needs regular maintenance too. The dust collector system consists of hoods, ductwork, air-material separators (cyclones, baghouse, cartridge collectors, wet scrubbers, etc.), explosion protection equipment, airlocks, instrumentation, and exhaust fans.
All of these items should be checked at least once a year to make sure they are operating correctly. The following points briefly describe what each piece of equipment needs:
---
1. Hoods
Visual inspection to make sure they haven't been damaged during the year.

Measure airflow velocity to make sure they are collecting the design airflow.

If a local damper is located by hood for balancing, make sure it is operable and in the correct position.
2. Ductwork
Visual inspection to make sure no holes have developed.

Measure air velocity through ductwork to make sure designed airflow is correct.

If possible, visual inspection of duct internal to make sure dust isn't building up.
3. Air Material Separators
Measure pressure drop across the separator to see if it is within parameters.

Inspect cleaning process (baghouses and cartridge collectors) that they are operating properly (timing, valves opening, air pressure, etc.). See operations and maintenance manual. Often time, listening to the system will let you know if it is operating correctly.

Monitor recycle line pressure and overflow in wet scrubbers.

Visual inspection of vessel walls to be sure there are no holes.
4. Explosion Protection Equipment
NFPA requires yearly inspection, following the manufactures manual is very important so the explosion protection equipment will protect the facility, equipment, and workers as it was designed.

Some explosion protection equipment such as chemical suppression should be done by factory trained personnel.
5. Airlocks
Rotary valves

Should be checked to see they are still spinning

Bearings should be greased and temperature measured to make sure they aren't overheating

On explosive applications the rotor clearance should be measured to make sure it still complies with NFPA 69.

Pneumatic valves (slide gates, double flap valves, etc.)

Valves should be tested to make sure they are still operating as designed.

Air pressure should be measured, to be sure it is still within design parameters.

Motorized valves (rotary valve, double flap valves, etc.)

Bearings should be greased

Bearing temperature should be measured to be sure they aren't overheating

Trickle valves

The sleeve should be inspected to be sure it is still sealing

During operation confirm that material is still draining and material hasn't bridged above it.
6. Instrumentation
Level gages, pressure gages, VFDs, pH meters, zero speed switches, etc. all have different maintenance requirements.

Follow the manual of the specific model for maintenance and inspection.
7. Exhaust Fans
The fan housing should be inspected to make sure no holes are present.

The voltage and amps should be measured to make sure it is operating at its design condition.

The bearings should be greased and temperature checked to be sure they aren't overheating.

The fan's vibration should be checked along with checking to see if any abnormal noise is emanating from the fan.
---
To learn more about which dust collector, please contact our experts at 440-543-7400 or visit our website: www.dustcollectorhq.com.
To improve efficiency and safety, there is no substitute for an on-site inspection by an experienced expert. Click below to start with a free 20-minute phone consultation by clicking the button.
Click below and watch our video to identify five signs that may diagnose a sluggish system so that you can return your system to full efficiency.