When you are designing your ductwork, there are two ways you can do it. 1) You can use dampers to control the airflow at each pickup and balance the system or 2) You can balance by design which means the ductwork is designed so that the proper airflow goes through each pickup without the need to install dampers. There are positives and negatives with both. The following will go over them.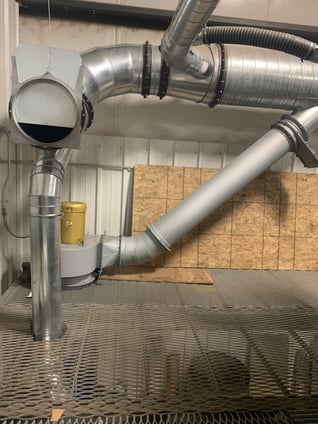 Balance by Dampers
Using dampers to balance your system provides much more flexibility but is much harder to achieve. This design has dampers at each pickup point which allows you to dial in the design airflow. It will allow you to add and remove pickup point (within reason). Of course, the duct needs to be designed so the minimum air velocity is maintained to keep any dust in suspension. The major issue with using dampers is that you have to balance the whole system, and every change affects every other damper. This means it takes skill and a lot of patience to balance the system. And any change, whether it is adding or removing a pickup point, the accidental (or deliberate) adjustment of the damper will affect the rest of the system. This could mean a total rebalancing of the whole system.
Basically, what this means is that if you require a versatile system which allows you to bring areas online or take offline while keeping the system as small as possible then using dampers is best for you. Just remember that every time you change the damper location you will need to rebalance the system. If you are not experienced this can be a very frustrating and time consuming job.
Balance by Design
The balance by design ductwork is designed so that the resistance throughout the system is such that the correct amount of air is being picked up at each pickup point. This has a few benefits, the first being it is an install and forget design. (Please note we don't actually mean forget). Once the ductwork is designed and installed, it will naturally pick up the designed amount of air until something changes. A properly designed system will have enough air velocity in each area to keep dust from falling out. So this means you won't need to adjust anything. We would recommend periodic checking of airflows to be sure the system is operating at the right airflow. If you find that it isn't then the ductwork has been damaged, changed, or material has built up in it.
The negative of this design is that once it is installed you can't change it easily. If you are adding or removing any pickup points then you may need to modify the ductwork to be sure you keep the design airflows. You will have to pay special attention that your airflow remains high enough to keep any dust in suspension. The other negative is that it will pull the airflow from all pickup points all the time. And if you are looking to use only one pickup point at a time, then the system will be bigger than might otherwise be needed.
---
To learn more about which dust collector, please contact our experts at 440-543-7400 or visit our website: www.dustcollectorhq.com.
---
---
To improve efficiency and safety, there is no substitute for an on-site inspection by an experienced expert. Click below to start with a free 20-minute phone consultation by clicking the button.