If you are like many plant engineers who are working within the confines of a limited work space, rest assured that you don't need to compromise on the efficiency of your industrial dust collection system. A traditional, high-efficiency cyclone is not the best solution for facilities with low ceilings.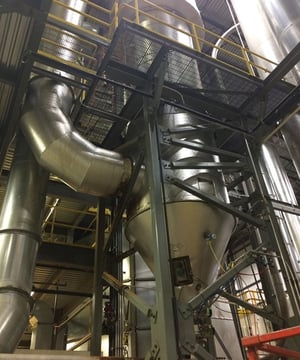 Space Limitation
If space limitations prevent you from properly orienting this type of cyclone in an upright position, this will result in a loss of efficiency due to particulate settling on the side of the collector and being carried out with the exhaust gas. Attempting to solve this problem by installing your vertically oriented dust collection cyclone outdoors may encourage condensation that can shorten service life and reduce efficiency.
Horizontal Cyclones
Today, more plant engineers are choosing a horizontal configuration for reliable, high-efficiency dust collection. These options include the Aerodyne GPC Cyclone and counter-cyclonic dust collectors, such as the Aerodyne SplitStream™ Dust Collector. The SplitStream™ Dust Collector uses a secondary air stream that directs material toward the collection hopper, and may be installed horizontally with virtually no loss of efficiency.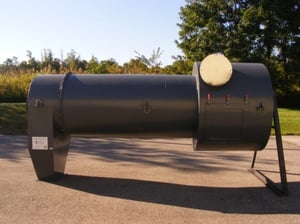 Because this design does not rely on gravity to bring the dust to the hopper like conventional cyclones, its operational efficiency is not affected by horizontal installation. In addition, this type of dust collection system may be suspended from a ceiling, conserving valuable space on the manufacturing floor.
The SplitStream™ Dust Collector the ability to increase/decrease process temperature while collecting dust. The unique counter cyclonic design element of the SplitStream™ Dust Collector ensures that a minimal amount of particulate comes in contact with the interior walls. This eliminates excessive wear and enables abrasive particulate collection.
---
How Do Horizontal Dust Collectors Work?
---
---
To learn more about which dust collector, please contact our experts at 440-543-7400 or visit our website: www.dustcollectorhq.com.
---
---
To improve efficiency and safety, there is no substitute for an on-site inspection by an experienced expert. Click below to start with a free 20-minute phone consultation by clicking the button.