The exhaust fan provides the motive force for the dust collection system. The exhaust fan has a performance curve that defines how much airflow it will pull at a certain static pressure. When you turn on a fan, it will ramp up and increase the airflow until reaching the maximum static pressure it can provide.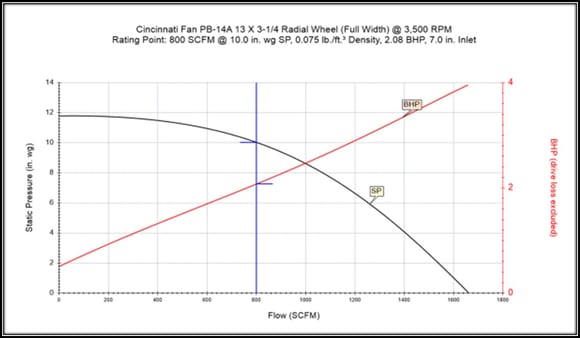 As most exhaust fans are centrifugal fans, the curves show that the lower the airflow, the higher the static pressure. This means that as the airflow increases the static pressure decreases. When the airflow in a system changes, this means the static pressure required in the system has changed, so the system performance has changed per the exhaust fan curve.
When The Airflow Is Higher
With higher airflow, the operating point will move further right on the fan curve. Generally, this won't affect the fan much. The efficiency of the fan could change, but the overall affect would be minimal. If this change takes the fan off its curve, then you could develop operational issues with the fan. However, this isn't a common occurrence.
When The Airflow Drops
A much greater issue is when the airflow drops. This moves the operational point to the left of the curve. Most centrifugal curves have the static pressure of the fan level out as the airflow decreases. If you get to this flat part of the curve, the fan could provide unstable performance, where the airflow jumps around. For example, the fan curve can show that between 0 ACFM and 800 ACFM the fan provides 12" W.C. This means when you get into this area your airflow can fluctuate anywhere from 0 to 800 ACFM. This can cause issues throughout your system and isn't a good place on the curve for the fan to operate.
When you are operating a dust collection system it is imperative that you maintain the airflow in the system within design criteria. If it increases too much it can cause added expenses, maintenance, and product loss. If it decreases too much it will let dust escape, lower removal efficiency, and possibly create dangerous environments. So, we highly recommend regular, if not continuous, monitoring of your process airflows to be sure you're operating within design parameter.
---
To improve efficiency and safety, there is no substitute for an on-site inspection by an experienced expert. Click below to start with a free 20-minute phone consultation by clicking the button.