When designing a dust collection system, the static pressure required of the system is extremely important. The reason is because the exhaust fan must be able to pull the design airflow at the design static pressure in order to get the design performance. Usually the higher the static pressure is the greater power is required by the fan at a constant airflow. This means, dust collector system designers usually try to keep the total static pressure low, in order to go with a smaller fan that costs less to operate.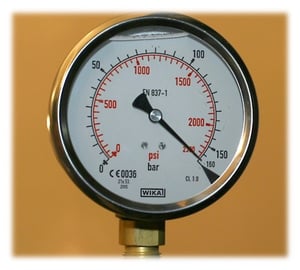 Cyclones Pressure Drop
However, when it comes to cyclones, this is not always the best policy. A cyclones pressure drop is based on the amount of air going through it. So a 24" diameter cyclone might have a 3" pressure drop at 1500 CFM and a 5.5" pressure drop at 2000 CFM. So a smaller cyclone can handle a higher airflow at a higher pressure drop. This would lower the fabrication cost of the cyclone, and allow it to fit in a more confine space, but have a higher operational cost (more HP required).
Higher Pressure Drop
But using a smaller cyclone also has another benefit, the higher your pressure drop, the more efficient the cyclone will be. This increase in removal efficiency usually will not allow you to use a cyclone only for dust control, but it will help remove smaller particulate before your primary filter. This will allow you to capture more material before contamination, lower the loading on your filters, and decrease utility usage (water or plant air).
So when you are designing a dust collection system, don't look for the cyclone with the lowest pressure drop, but look at all the aspects that affect the system. Will a smaller cyclone fit better? Will higher removal efficiency in the cyclone be beneficial to the main dust collector?
---
How the Aerodyne SplitStream Cyclone Works
The SplitStream Cyclone Collector is designed for dust collection systems where tough dust like abrasive, sticky, fibrous, hygroscopic or granular persist. Configured horizontally or vertically, the cyclone's low-profile design is perfect for mounting in space-restricted areas.
---
5 Signs Your Dust Collection System Needs Maintenance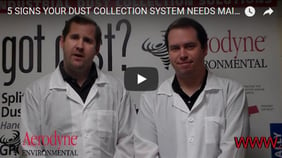 Is your dust collection system working at peak efficiency? A quick, do-it-yourself examination may identify symptoms that your system needs a check-up.
---
To learn more about which dust collector, please contact our experts at 440-543-7400 or visit our website: www.dustcollectorhq.com