Rotary valves will occasionally jam. This can happen when material gets between the rotor and the housing or when oversized material cannot fit into the rotary valve pockets. Depending on the type of jamming that is happening you handle the situation differently.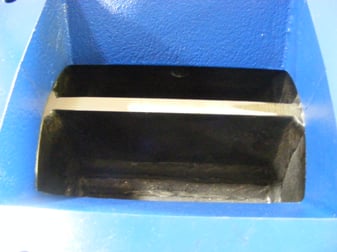 Space Between Rotor and Housing
Rotary valves have a space between the rotor and the housing. This space allows the rotors to rotate freely but it can also allow air to leak across the valve. When materials falls on the rotor edge it can buildup and jam the rotary valve. So for existing rotary valves, you might have to replace or modify the existing rotor. Beveling or chamfering the rotor edges help the material to fall off the edge and into the valve pockets.
When Jams Caused by ...
For jams caused by oversized material, a valve with larger pockets is required. This could mean a larger rotary valve or replacing the rotor with a rotor containing one less pocket. Please note if the rotary valve is on an explosive application, NFPA requires a minimum of six vanes on the rotor. If these options aren't possible, looking into a double dump valve might provide larger clearance for oversized material to pass through.
---
To learn more about which dust collector, please contact our experts at 440-543-7400 or visit our website: www.dustcollectorhq.com.
---
---
To improve efficiency and safety, there is no substitute for an on-site inspection by an experienced expert. Click below to start with a free 20-minute phone consultation by clicking the button.