A facility that specializes in grinding down particulate to custom sizes was experiencing a lag in its process. The process uses 5,000 ACFM to pneumatically convey granular plastic powder from the production area to the packaging area. The system needs to move 5,000 lbs of dust per hour. To do this, the company utilizes a series of baghouse collectors.

Plant operators were finding that too much time and money was being spent on maintenance and replacement parts. Due to the nature of the operation, the filters on the baghouses were becoming clogged too quickly. Production time was getting reduced which was contributing to a loss in profit and money was being spent on replacement parts. Bottom line: the company was losing money. Searching for a solution to the problem, the company reached out to Aerodyne.

Aerodyne sees many cases and problems like this company was facing. Over time baghouses removal efficiencies and the recovery levels of the product decrease as the filters wear or become clogged. The maintenance needed is frequent and time consuming, and often times baghouses can't be used in application due to the nature of the particulate.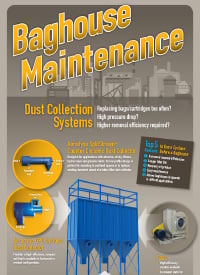 Launch infographic to see how cyclones can cut your baghouse's costs

A quick and easy solution to these issues is to place a cyclone before the baghouse and use it as a pre-filter. By doing so, the cyclone is able to handle the bulk of the work load and the baghouse acts as a final filter for the process. The cyclone is able to better reclaim or recover the product if need be and the maintenance is simple and not needed as frequently. More importantly, by placing a cyclone before the baghouse it allows the baghouse to be utilized in more difficult applications that it would not be able to operate in normally. This allows for more versatility for companies and their processes.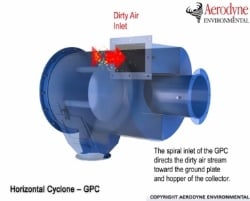 Watch video on how cyclone works

For this particular application, Aerodyne suggested the company place a GPC before the baghouse collectors in the process. The Aerodyne GPC Dust Collector operates differently than other dust collectors. A sloped spiral inlet directs the dirty gas stream toward a fixed ground plate and hopper of the dust collector. The ground plate forces vortex reversal to occur in a much shorter space, eliminating the need for a long, tapered body. As the dirty gas stream strikes the convex ground plate, fine particulate that has not completely made it to the dust collector walls is deflected into the hopper. The ground plate also shields collected particulate from the forces of the vortex reversal, acting as a barrier between the separation chamber and the collection hopper. This innovative design enables a compact dust collector to operate at high efficiency, even when installed horizontally.