A US industrial fabrication facility that specializes in producing metal components for numerous bulk material handling applications nationwide recently contacted Aerodyne about a trickle valve system. The facility was manufacturing a baghouse that would be used to mix three types of animal feed. The company needed a trickle valve system to manage the grain dust that the baghouse was collecting.
After going through the application further, Aerodyne suggested the facility use an Armadillo Vacu-Valve trickle valve system. Trickle valves are the most economical way to manage dust discharged from bag filters or cyclones under negative pressure. The fitted duckbill sleeve adjusts to the desired vacuum and material is continuously discharged. It requires no controls, lubrication or power supply and easily handles abrasive materials. This trickle valve can be used in higher temperature applications as well. By placing a Vacu-Valve fitted with a Neoprene sleeve at both of its baghouses, the facility was able to eliminate the removal efficiency issues and help to prolong the bag life.

For detailed literature, animated demos, and application literature on the Vacu-Valve, click the photo below.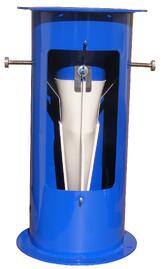 Learn how the Vacu-Valve can improve your dust collection system