While Aerodyne doesn't manufacture baghouses or their controllers, it seems like we're always working with them. However, as we like to say, the pulse-on-demand controller is the wave of the future. Sure, the old baghouse controller is still functional, but the rising cost of energy and the growing concern about waste make the pulse-on-demand controller the ideal choice.
The pulse-on-demand controller measures the pressure drop across the filters. When the pressure drop gets above a certain amount (as set by the user) the cleaning system will automatically start up. It will continue to clean until the pressure drop get below a certain amount (again set by the user). This process then repeats itself throughout operation.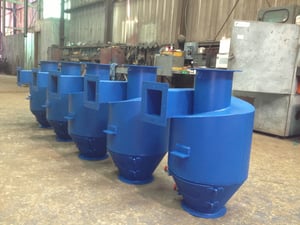 This means that you won't have to clean your filters unless you need them, which makes everyone's life easier, except maybe for the bag manufacturer! Less cleaning also means that your filters will last longer, and you'll save extra money otherwise spent using more compressed air.
To increase the time between required cleanings, you can also add a cyclone pre-filter before the baghouse section to decrease the loading on the baghouse, so that it takes longer for the filter's pressure drop to increase. This way, your bags will last longer while your compressor works less, saving your facility money.
Learn more about pre-filter.