A dust collection system consists of four major components. The pickup hood, ductwork, dust collector, and exhaust fan. For the system to operate efficiently all four components much be sized and used correctly. Unfortunately, one of the main components (the hood) is often overlooked. The hood design is crucial for the operation of the dust collector system. And without the proper hood design, your dust collector will not provide the dust pickup required for the safety of the equipment and workers.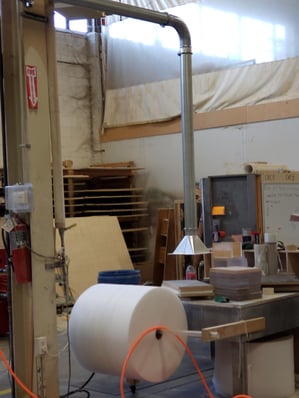 The hood should be designed so that it will capture the dust without letting dust escape. This can often be difficult as the hood will need to be designed to pull air from all the areas generating dust while also provide the required access of the operator / machine.
Using the wrong hood can cause:
Dust to escape the hood, thereby causing health, safety, and maintenance issues.

Too much dust is captured, removing product or components from the process.

Too much air is used, increasing the system size and cost.
When you are looking to install a dust collector system, pay attention the hood design of the system. Spend time selecting the proper hood for the application and don't just go with the least expensive hood, as this could cause your entire dust collection system to fail at its job.
---
To learn more about which dust collector, please contact our experts at 440-543-7400 or visit our website: www.dustcollectorhq.com.
---
---
To improve efficiency and safety, there is no substitute for an on-site inspection by an experienced expert. Click below to start with a free 20-minute phone consultation by clicking the button.