All dust collectors include a hopper that collects the captured dust. These hoppers are not designed for storage of the dust, however. They are there for the dust to collect until it passes out of the dust collector through an airlock, such as a rotary valve, double-dump valve, trickle valve, etc. Adequate discharge intervals are important. If enough dust builds up in the hopper, then the dust will get re-entrained into the air. This could cause a few issues.
First, dust re-entrainment could increase the concentration of the inlet dust loading, thereby letting more dust through the dust collector and increasing the wear and tear on the components. Re-entrainment could also cause air that has already been cleaned (as in a cyclone) to be contaminated, thereby decreasing the unit's overall removal efficiency.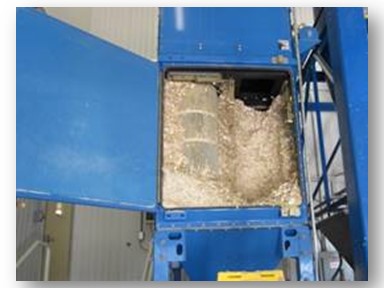 Another, more serious issue would be in explosive dust applications. Dust collection in the hopper will increase the amount of material able to fuel an explosion if there is a source of ignition. It could also increase the risk of combustion by increasing the concentration of explosive dust in the air.
If you have cyclone in an area where it experiences significantly lower dust loading than the Minimum Explosion Concentration (MEC), then you might think that you don't have to install explosion protection. However, if you are storing dust in the hopper, your actual dust loading could be higher than the MEC.
The best procedure is to keep the dust in the dust collector hopper to a minimum. You can install a level gage on the hopper that will let you know if the material has built up and is ready for discharge. The gage will alert you that it is time to clean out the hopper and check your airlock for issues. You can install a timer that opens the valve periodically. With some types of dust, a trickle valve such as the Aerodyne Platypus valve will automatically allow material to pass once it has built up high enough above the valve.
Minimizing material storage in the hopper will keep your removal efficiency as high as possible, decrease wear and tear, and also minimize explosion risks.
Find out more.