A US plant that manufactures materials that are used as semiconductors was having issues with its cartridge collector and sticky material dust control problems. The facility manufactures boron nitride in furnaces. They boil out the byproduct, boron oxide, and 2000°C. The boron oxide is very hydroscopic; it's extremely sticky and quickly grows is size. The company was using a cartridge collector, but due to the hydroscopic byproduct, the filters were clogging up quickly with particulate that had a mud-like consistency. Looking for a solution to the muddy issue, the plant manager reached out to Aerodyne Environmental for a solution. After considering the technicalities of the operation, it was suggested that the company place a SplitStream™ industrial dust collector in front of its cartridge collector to help remove most of the larger particulate. The SplitStream industrial dust collector can process and handle sticky material dust control problems with easy and help to prolong the life of the filters in cartridge collectors. The company decided to purchase an S4500 SplitStream industrial dust collector and use it as its primary airflow, while use 3000 CFM of fresh air as the secondary air flow. After a few weeks of operation with the S4500 added to its manufacturing process, the company's issue of clogged filters has been reduced and the dust collector has help the filters last longer.
There are many reasons to place a dust collector before a baghouse or cartridge filter. Read our Top 5 Reasons by clicking the photo below! Find out how our unique dust collectors will improve your manufacturing process!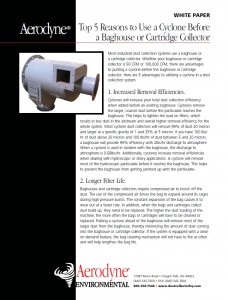 Learn More About Sticky Material Dust Control!