Aerodyne Environmental has recently released its new industrial dust collection video for the GPC dust collector. One of Aerodyne's most used products due to its compact size, unique design, and powerful technology. The GPC dust collector is a compact high efficiency cyclone dust collector. It has several distinct advantages over common high-efficiency cyclone dust collectors. The spiral inlet of the GPC directs the dirty gas stream toward the ground plate and hopper of the collector. Coupled with the compact size of the collectors, this gives the GPC the ability to be installed horizontally with virtually no effect on the collection efficiency. This cyclonic dust collector can improve any dust collection system.
The Aerodyne GPC Dust Collector is designed to reduce particulate emissions at processing plants, reclaim useful material from air/gas waste streams, or serve as a pre-filter in front of baghouse filters. Placed in front of a baghouse or cartridge collector, the GPC Dust Collector reduces the load placed on this equipment and greatly extends the life of the filter media they use. This dust collector handles a wide variety of dry materials including sawdust, sand, plastics, cereal/grain, and many others.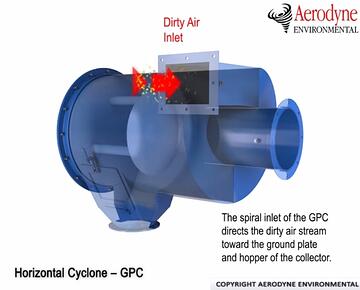 Watch our newest industrial dust collection video below. For more information on how our dust collectors can improve your process, visit our website or call to talk to a sales person.