Material of construction is extremely important to the durability of a piece of equipment. The suitability of the materials of construction is based on the process, which includes the different components, phases, temperature, and pressure. For example: a cyclone's material of construction would be dependent on the following: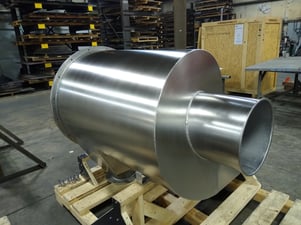 Material (dust) Being Collected
Properties of the dust being might dictate the materials of construction. Food or pharmaceuticals will usually require stainless steel to prevent / minimize contamination. Carbon steel is often acceptable for wood applications. Other times, the material properties require a special material. For example, abrasive material might require AR steel or a coating to help prevent erosion of the cyclone.
Chemical Composition
The chemical composition of the process can dictate the materials of construction. If a component will react with the materials of construction, it could cause premature failure. For example, water or high humidity can cause rusting of carbon steel so stainless steel might be better suited. Or if an acid is a component of the gas stream, then a high alloy metal or fiberglass construction might be better suited.
Temperature and Pressure
High or low temperature can cause materials to change their properties. Material can become brittle or they may react more with components. For example fiberglass can't handle higher temperatures whereas metals usually can. And some material might have good compatibility at lower temperatures but very poor compatibility at higher ones. Sometimes pressure can affect the material properties, but usually it will affect the thickness of the walls.
Aesthetics
Some customers have plant requirements for their equipment. For example, a food or pharmaceutical facility may require stainless steel construction even though the equipment is on the waste process and everything will be disposed of. In a similar vein, the finishing of the equipment might be determined because all the other equipment has a high polished finish and the customer wants it to fit in.
So, when determining the materials of construction, there are many factors that contribute. It is best if the end user, with help from the vendor(s), determine the materials of construction. The end user usually knows the process better than the equipment manufacturer and therefore is in the best position to determine the materials of construction.
---
To learn more about which dust collector, please contact our experts at 440-543-7400 or visit our website: www.dustcollectorhq.com.
---
---
To improve efficiency and safety, there is no substitute for an on-site inspection by an experienced expert. Click below to start with a free 20-minute phone consultation by clicking the button.