A bakery in IL was in need of material handling valves that would allow control of its baking materials. Specifically, the company needed something that would permit the addition of solids in to the baking process with ease and precision. After seeing a press release for Aerodyne's StopTight Knife Gate Valve, the company reached out to Aerodyne for more information.
A knife gate valve is used as a flow control valve in a bulk-material handling system, either in the line of flow or at the point of discharge. Using a linear motion, a blade advances until the passage is closed, or it withdraws until the passage is open. In the closed position, the knife gate valve is designed to seat tightly and prevent the loss of positive or negative pressure of the system. Aerodyne has a large selection of Knife Gate Valves which can be used to handle a variety of materials and operating conditions. From manual valves to pneumatic valves for dust control, Aerodyne has a knife gate for almost any application.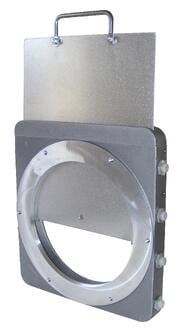 Aerodyne suggested the company use three 12" pneumatic knife gate valves that have aluminum housing and a stainless steel blade for its operation.
To find out more about how the knife gate can help introduce control to your material handling process, click the photo below.