A world leader in mining that specializes in gold mining was trying to find a way to improve its operation spaces and its industrial dust collection. The company takes ore from the mining operations and feeds it into crushers. The crushed rock/ore is then stored until it is gravity fed into an apron feeder. The apron feeder feeds the crushed ore on to a 4' conveyor system. The conveyor then takes the crushed material for further processing where the gold will be separated from the other materials. Due to all of the dust that is created from this process respirators must be placed in every area. Not only do the respirators take up space, they also cost time and money to maintain and clean. Its industrial dust collection needed some re-working
Searching for a solution, the company found Aerodyne Environmental's website. After contacting a salesperson and discussing the situation the facility was in, it was decided that the company utilize a horizontal GPC to improve its current industrial dust collection setup.
The GPC is a compact, high-efficiency cyclonic dust collector. The unique "ground plate" design eliminates the need for a long, tapered cone as required by conventional cyclonic dust collectors. The compact size of this collector allows for installation in locations with low overhead clearances and reduces the need for tall maintenance scaffolding. The industrial GPC Dust Collector is ideal for use as a pre-cleaner for baghouses and other filter-type dust collection equipment. Because the GPC has no moving parts or filters, it is easy to maintain and is well-suited to product recovery applications. The horizontal configuration is helpful when space is limited, much like this mining facility's layout. Aerodyne's GPC was just what this mining facility needed to keep its industrial dust collection setup operating at the pace they needed.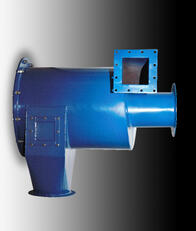 Click the photo above to learn more about the GPC's industrial dust collection capabilities!