When selecting the best cyclone for your process, there are many different factors that affect the sizing and cost of the cyclone. The cyclone must be sized so that it handles the airflow of the system and components. The proper design for the required removal efficiency must be used. The process will also dictate the materials of construction and special requirements. The location where the cyclone will be installed will influence the cyclone orientation. Cyclones aren't a stand-alone piece of equipment; support equipment is required for proper operation. Therefore, the scope of supply will affect the cyclone costs and design. The following is a brief description of the different elements that affect cyclone sizing and pricing.
Part 2: Dust Removal Efficiency
The main purpose of a cyclone is to remove material from the airstream. A cyclone will remove a certain percentage of material based on the size of the material. The larger the material, the higher the removal efficiency of the material will be. The density of the material also plays a part in the removal efficiency. Heavier material will see greater removal efficiency.
Faster air velocity in the cyclone will create greater centrifugal motion and a greater force pushing the material out towards the walls. What this means is the higher your pressure drop through the cyclone, the greater the removal efficiency will be. (Assuming the pressure drop isn't from a badly designed cyclone inlet and outlet) The chart below shows the removal efficiency of a GPC-24 at different pressure drops with material having a specific gravity of 1.0.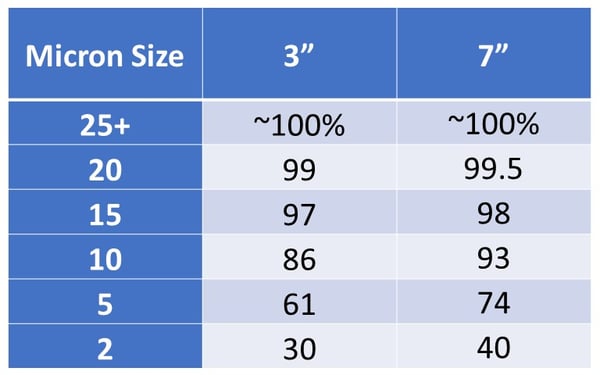 Please note the particle shape will also affect the removal efficiency. Spherical material is the easiest to predict while abnormal shapes are the hardest to predict. The above chart assumes a spherical dust.
When selecting the cyclone size, you will have to balance the requirement for the highest removal efficiency against the lowest pressure drop. A smaller cyclone for a specific airflow will provide greater removal efficiency with a lower cyclone cost, but higher operational costs (larger fan due to larger pressure drop).
Specially designed cyclones are available that will increase the material removal efficiency. Ex. Aerodyne manufactures the SplitStream cyclone. These special cyclones are more expensive than standard cyclones but usually can provide higher removal efficiency and other benefits beyond standard cyclones.
---
5 Signs Your Dust Collection System Needs a Pre-Filter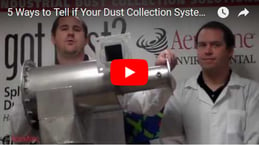 Watch the video from the Dust Efficiency Clinic discusses how using a pre-filter will optimize your dust collection system.
If you prefer this valuable information in white paper form, get our whitepaper, Top 5 Reasons to Use a Cyclone as a Pre-filter.
---
To learn more about which dust collector, please contact our experts at 440-543-7400 or visit our website: www.dustcollectorhq.com.
---
To improve efficiency and safety, there is no substitute for an on-site inspection by an experienced expert. Click below to start with a free 20-minute phone consultation by clicking the button.