When designing a dust collection system, one of the most critical design considerations is fire protection. Filter media that are typically used in baghouses, cartridges, or simple filters are most often constructed out of combustible materials. If your dust collection system is being used for an application that is likely to produce sparks, such as cutting, grinding, sanding, or welding, then there is a possibility that a spark could reach the filters and cause an explosion or fire in the system, which could lead to catastrophic damage and potentially loss of life.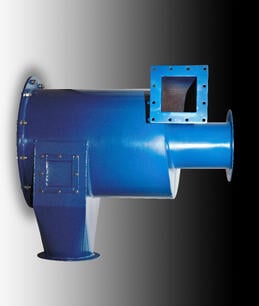 One method of preventing sparks from reaching the filters is to incorporate a pre-filter cyclone as a spark arrestor. Air that is contaminated with dust enters the cyclone through an inlet and is then directed towards the walls of the unit. Centrifugal force then takes over, as heavier particles are carried outwards to the wall of the cyclone, spinning along the walls until discharged at the bottom into a hopper. Because cyclones are typically constructed of metal, any spark that touches the cyclone wall will be drained of heat due to thermal conductivity losses. The combination of reducing the speed of the spark and allowing it to lose energy in the cyclone result in an economical and proven method of spark arresting in dust collection systems.
In addition to working as a spark arrestor, a cyclone provides the additional benefit of collecting 80-90% of dust that would otherwise reach the filters. This results in longer filter life and decreased load on the system which can greatly reduce energy costs.
---
To learn more about how a cyclone could be utilized in your dust collection application, please contact our experts at 440-543-7400 or click on the button below to get your Cyclone Brochure.