The key function of a collector is to remove the maximum volume of dust from the airstream. Additionally, an important part of the process is keeping the removed dust from re-entraining.
Baghouses and Cartridge Collectors
Baghouses and cartridge collectors collect the dust on the filters and during cleaning, the material is knocked loose and falls to the hopper. How well the material falls to the hopper is dependent on the dust that is being collected, the can velocity (speed of air between the filters) in the baghouse, and the design of the baghouse.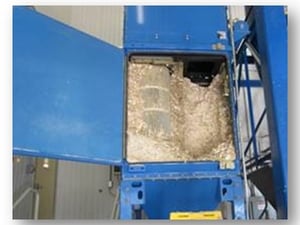 Basically, if the dust is very light and/or irregular in shape, then it might not easily fall to the hopper, instead it might float (like a leaf). This could cause it to be re-entrained in the airflow and go back on the filter. If the airflow is very high then the can velocity could hold up dust after cleaning, thereby causing re-entrainment of the dust. The design of the unit can affect re-entrainment as well. Some units have the dust coming in the unit below and at a rather high speed, which can increase dust re-entrainment. Others will have the dust entering from the side of the filters, thereby being at a much lower velocity and out of the path of falling dust.
Cyclones
Cyclones use centrifugal force to push the particulate dust outward. Most cyclones also use tapered walls to concentrate the dust as it gets lower in the cyclone until it falls into the hopper, while the clean air leaves the cyclone through the center. The point where the air stops traveling down the walls and begins to travel up the center is called vortex reversal. Depending on dust size, concentrations, and cyclone design, dust can be re-entrained by the clean air leaving the cyclone.
Wet Scrubbers
Wet Scrubbers are very good at low re-entrainment. This is because when the dust meets a droplet, they become one larger particulate and then fall out of the airstream easier. Most well designed wet scrubbers have a mist elimination section that will further collect droplets before leaving the collector.
---
5 Signs Your Dust Collection System Needs a Pre-Filter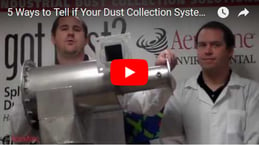 Watch the video from the Dust Efficiency Clinic discusses how using a pre-filter will optimize your dust collection system.
---
To learn more about which dust collector, please contact our experts at 440-543-7400 or visit our website: www.dustcollectorhq.com.
---
To improve efficiency and safety, there is no substitute for an on-site inspection by an experienced expert. Click below to start with a free 20-minute phone consultation by clicking the button.