Recently, a multinational food manufacturer and distributor decided to expand its overseas operations and build a new facility with dust collection technology in China. This particular facility will have a grain mill that processes a warm wet oat at ambient temperature. This company has two North American locations that have been utilizing the Aerodyne high-efficiency SplitStream dust collection technology as part of its manufacturing process for over 25 years, and had just recently updated its units with newer SplitStream models. The new facility will also be equipped with two S3700s and one S4500, the Aerodyne 8' H-valve rotary valve, and fans.
After being ground in the mill, the wet oats are dried in a continuous dryer at 265°F. The dryer will get vented out to the high-efficiency SplitStream to collect any oat dust. The H-Valve is fixed underneath the dust collector and the dust is fed through it and into drums for disposal.
The Aerodyne SplitStream Dust Collector achieves high-efficiency by forcing dirty gases into a powerful centrifugal motion. The centrifugal action throws dust particulate out of the gas stream. A secondary air stream carries the dust particulate to the hopper, keeping dust away from the collector walls and reducing sticking and abrasion. As a result, the SplitStream virtually eliminates maintenance problems common to other types of cyclones. The prevention of particulate contact with external walls is a major factor in the unit's ability to achieve high efficiency ratings. Since the SpiltStream does not use bags or filter cartridges, the collected product is easily returned to the process for reuse or sent out for disposal.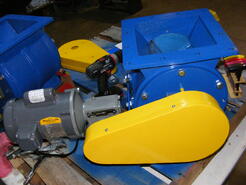 If you are need of updating or improving your dust collection technology, click the photo below to learn how Aerodyne's dust collectors can improve your application's process!