A US project development group that focuses on global energy recently contacted Aerodyne Environmental about dust collection technology. The group was planning on constructing a portable unit that would be used to remediate oil that was trapped in mud cuttings. The mud would be placed in a static mixer/kiln that would be heated to around 550° F. The hot kiln will be used to evaporate the hydrocarbons from the mud cuttings. The evaporated gas will then be treated in a proprietary system that will turn it into a syngas (synthetic gas), and will eventually be used to power the kilns. The leftover mud cuttings are turned into a powder with the consistency of sand. The facility was trying to find a dust collection technology that would remove the dust from the syngas before the gas went to the kilns. They did not want the sand like nature of the dust to clog the burners and they also wanted to minimize the risk of pollution. Additionally, they needed something that was smaller in size so that all of the equipment could fit onto the back of a flat bad, and be driven around from location to location.
After going over the amounts of sand that would be collected at a time and the size of the space allotted for the dust collection technology, Aerodyne suggested the company use the GPC Dust Collector for the portable project. The GPC is a compact, high-efficiency cyclonic dust collector. The unique "ground plate" design eliminates the need for a long, tapered cone as required by conventional cyclonic dust collectors. The compact size of this collector allows for installation in locations with low overhead clearances and reduces the need for tall maintenance scaffolding, and would be a perfect fit for the intended portable layout for this company. The GPC Dust Collector is ideal for use as a pre-cleaner for baghouses and other filter-type dust collection equipment. Because the GPC has no moving parts or filters, it is easy to maintain and is well-suited to product recovery applications.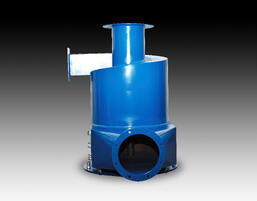 For more information on Aerodyne's wide variety of dust collection technology, click the photo above.