A dust collection system is much more than just the dust collector (ex. Cyclone, baghouse, cartridge collector, wet scrubber, etc.). It constitutes the exhaust fan, hoods, instrumentation and interconnecting ductwork. If any of these components are improperly sized or operating, the whole system can fail in its primary objective, dust collection.
Today we are discussing the differential pressure gage. The differential pressure gage is an often overlooked piece of equipment on dust collectors, especially cyclones. By measuring the differential pressure across your dust collector, you are monitoring your system performance.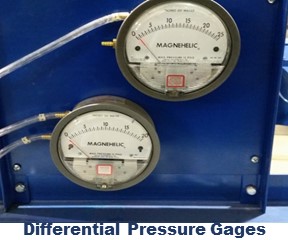 If the differential pressure gage suddenly changes, it is telling you something has recently changed in your system. If you see a gradual change in the differential pressure, then it is telling you that the system is gradually changing.
A sudden change is telling you that the airflow has suddenly increased or decreased. This could be caused by a variety of reason (plugging of filters, opening of damper, closing of damper, etc.) When you see this happen, your removal efficiency will be affected. So it's better to start identifying the issue before you are forced to.
A gradual change is telling you that the ductwork or filters are starting to plug up. This could be normal operating conditions or caused by a change in process. When you notice a gradual change in the pressure drop, schedule a maintenance inspection before it gets too drastic. That way you won't be forced shut down in an emergency.
If you are having operational issues on your dust collection system, contact Aerodyne at 440-543-7400 or dc@dustcollectorhq.com.