A dust collection system is much more than just the dust collector (ex. Cyclone, baghouse, cartridge collector, wet scrubber, etc.). It constitutes the exhaust fan, hoods, instrumentation and interconnecting ductwork. If any of these components are improperly sized or operating, the whole system can fail in its primary objective, dust collection.
Today we are discussing the exhaust fan. The exhaust fan could be the most important component in the dust collection system. It provides the motive force for the whole system. If it isn't performing as required, the system will fail. The proper fan impeller (wheel) must be used if the fan is to operate correctly.
There are three types of wheels/impellers: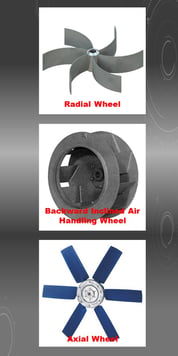 Radial wheel (Ex. open material handling and material handling) - These wheels should be used when the fan is on the dirty side of a dust collector or after a dust collector where a large amount of dust remains in the airstream (ex. after drop out box). The wheel is designed so it can handle dust in the air. The open type wheel is used when there is a high dust loading and/or the dust is fibrous. Its design helps prevent the dust from wrapping around the wheel.
Air handling wheel – The air handling wheel is designed for clean airstreams or extremely light dust loading. These wheels should always be used on the clean side of and dust collector and never on the dirty side. They are usually more efficient in air movement than the radial wheels.
Axial wheel – These wheels are usually never used on dust collection systems. They will move a lot of air, but without much force behind them. If possible, stay away from axial fans on your dust collector system.
If you are having issues with the fan on your dust collector, check the wheel. Make sure you are using the proper type.
Find out more at Dust Efficiency Clinic.
If you are having operational issues on your dust collection system, contact Aerodyne at 440-543-7400 or dc@dustcollectorhq.com.