Aerodyne Environmental,the industry's leading manufacturer of industrial cyclonic dust collectors and dust collection valves, has released a new Industrial Dust Collector Facts book. For the past several decades, industrial facilities in a wide variety of industries have deployed dust collection systems as part of their manufacturing processes. As the years have gone by, the technology and filtration techniques have improved. The systems themselves have changed and evolved to become more sophisticated, and at times more complex. Aerodyne's Dust Collection Facts booklet is the guide to help you in the selection process of choosing the correct dust collection technology for your facility.
In this informational guide you will learn about all of the different types of dust collection systems out there and how they are applied in manufacturing processes. You will learn about the pros and cons to each set up, which will help you better determine what type of dust collection system is right for your application. Click the photo below to download your free copy of the industry's leading informational guide on dust collection systems today!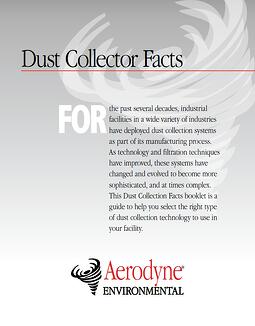 Click here to receive a copy of this new informational guide.