A US open-die forging facility was recently having issues with its dust collection system. The company utilizes two baghouses on the shot blast machines that are used to heat treat and machine parts for its customers. The baghouses did not have an airlock and were not providing the removal efficiency that they required for its process. Outside air was getting in from the bottom and re-entering the dust. Not only was this decreasing the removal efficiency, it was also excessively increasing bag wear. The facility contacted Aerodyne Environmental for a solution to its dust collection system woes. After a detailed description of the technicalities of the process, it was decided that the company would benefit from using the Vacu-Valve Platypus to solve the dilemma.
The Vacu-Valve is commonly used in forges and is an excellent cost-effective solution to rotary valves. Trickle valves are the most economical ways to manage dust discharged from bag filters or cyclones under negative pressure. The fitted duckbill sleeve adjusts to the desired vacuum and material is continuously discharged. It requires no controls, lubrication or power supply and easily handles abrasive materials. This trickle valve can be used in higher temperature applications as well. By placing a Vacu-Valve fitted with a Neoprene sleeve at both of its baghouses, the facility was able to eliminate the removal efficiency issues and help to prolong the bag life.
For detailed literature, animated demos, and application literature on the Vacu-Valve, click the photo below.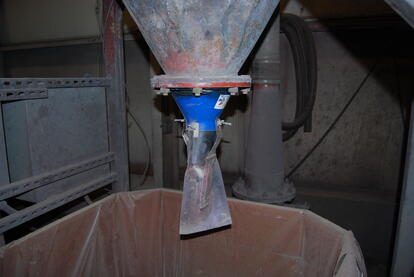 Click here and learn how the Vacu-Valve can improve your dust collection system.