A company in Florida that specializes in ventilation project consulting for manufacturing and processing facilities was recently in the market for a double dump valve. The company is working on a project for a customer that grows oranges for juice. The customer has a piece of equipment that harvests the oranges from the trees. However, the machine does not catch or collect all of the oranges and sometimes they fall to the ground or fall out of the trough. To remedy this situation the customer reached out the ventilation experts to engineer a solution. The engineers came up with a model that acts as a vacuum and collects the misplaced oranges. It consists of 2 hoses that come off either side of the machine, while a fan creates a vacuum that allows the oranges to be collected through either hose and dropped into a bin below the fan. In order to keep the oranges from coming up where the oranges are being stored, the engineers needed a double dump valve to eliminate the vacuum suction. After finding Aerodyne's GatorGate Double Dump Valve online, the engineers reached out to salesmen Dan Navicky to ensure that it would work in the proposed model. After going through the technicalities of the operation it was agreed that in fact the GatorGate double dump valve would achieve what the engineers were setting out to do in this project.
Once the fan creates the vacuum, the oranges are pulled up via the two side hoses at a rate of approximately 1 every 5 seconds. The oranges are then pulled up through the hoses conveyed down the line where the air will go into a fan (an inlet with a guard) and exhaust while the oranges are gravity fed into the double dump valve. The double dump valve will also prevent the system from picking up any oranges that have already been placed in the hopper. All of the collected oranges will be used for juicing purposes.
The GatorGate Double Dump Valve feeds and moves chunky or fibrous material that would jam ordinary rotary valves and is durable enough to move abrasive material. The GatorGate valve uses tandem gates to maintain proper pressure above and below the valve and has a reinforced closure mechanism to prevent air seepage. This double flap valve can be configured to operate using air or electricity and requires little maintenance. For more information about the GatorGate Double Dump Valve, click the photo below for detailed product literature and videos.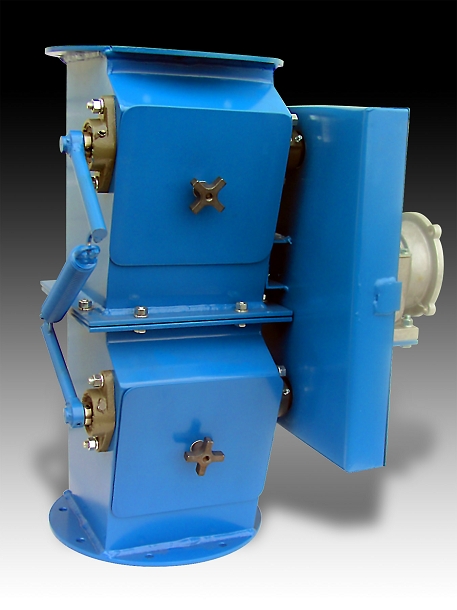 Click here for videos and product literature on the double dump valve from Aerodyne!