A facility that specializes in paper and card products was having issues with its baghouse dust collector operation. The scraps of paper that were being created in the process get pneumatically conveyed away from the die cutters to a corrugator. The company uses a shaker baghouse to separate the scraps from the transport air. The bags were starting to bridge and the air was being directed into the corrugators. The company contacted Dan at Aerodyne for a solution.
Dan suggested the company place a GPC-40 in front of the baghouse dust collector. The GPC will act as a pre-filter for the shaker and will remove most of the scrap paper before it reaches the baghouse. The Aerodyne GPC Dust Collector operates differently than other dust collectors. A sloped spiral inlet directs the dirty gas stream toward a fixed ground plate and hopper of the dust collector. The ground plate forces vortex reversal to occur in a much shorter space, eliminating the need for a long, tapered body. As the dirty gas stream strikes the convex ground plate, fine particulate that has not completely made it to the dust collector walls is deflected into the hopper. The ground plate also shields collected particulate from the forces of the vortex reversal, acting as a barrier between the separation chamber and the collection hopper. This innovative design enables a compact dust collector to operate at high efficiency, even when installed horizontally.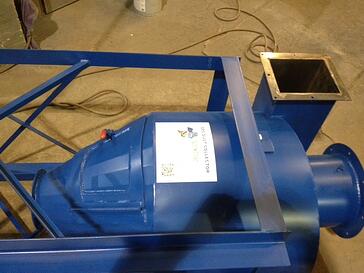 Additionally, Dan suggested the company use a double dump valve in the process. The GatorGate double dump valve will prevent air from leaking into the corrugators. The GatorGate Double Dump valve feeds and moves chunky or fibrous material that would jam ordinary rotary valves and is durable enough to move abrasive material. The GatorGate valve uses tandem gates to maintain proper pressure above and below the valve and has a reinforced closure mechanism to prevent air seepage. This double flap valve can be configured to operate using air or electricity and requires little maintenance.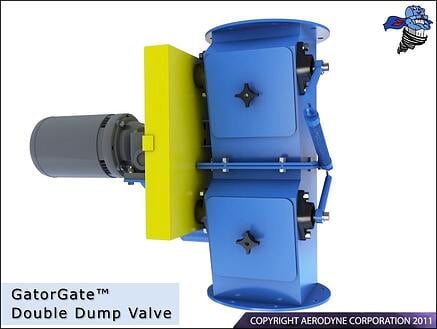 If your baghouse dust collector operation is proving to be a time consuming and costly process, contact Aerodyne Environmental today and find out how our industrial dust collectors and durable material handling valves will solve your problems. Click the photo below to learn more!