With government regulations tightening on solid emissions, baghouses and cartridge collectors have become status quo in the past 40 years. The fabric filters (bags or cartridges) remove dust below 1 micron in size. The high removal efficiency of the filters, have been considered best available removal technology. This means most processes requiring dust collectors will use a baghouse or cartridge collector. However, not all processes work well with baghouses and dust collectors.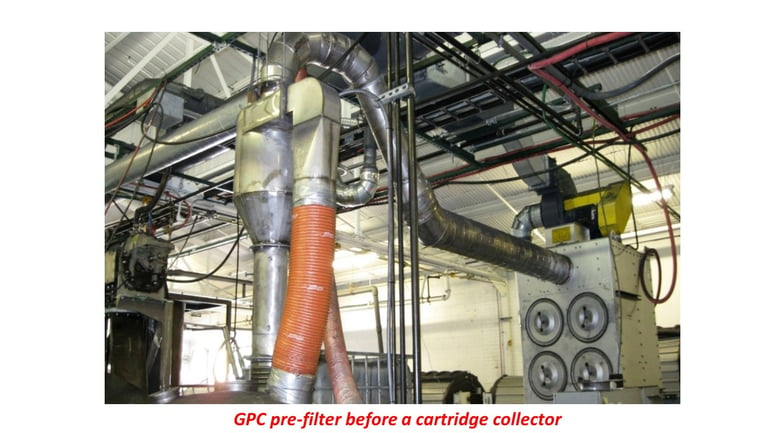 Baghouses and cartridge collectors use fabric filters to separate particulates from the airstream. Since fabrics are used, they can have some operational issues in certain processes.
High dust loading can plug up the filters.
Abrasive, sticky and wet dust can plug up the filters.
High temperature or sparks can degrade the filter or cause them to burn.
Low temperatures in high humidity airstreams can cause operational issues.
Cleaning of the filters will cause holes to develop over time.
Changing of filters can be a costly and time consuming process.
Dusts collected in the filter could be contaminated or be lost for particulate that is being recovered and reused.
Using a cyclone pre-filter can help the operation of a baghouse or cartridge collector with all of these challenges.
The cyclone removes a portion of the particulate before it reaches the filters. The lower particulate concentration will
Cause less dust to come in contact with the filter, thereby requiring less cleaning.
Decrease the amount of abrasive, sticky, and wet particulates contacting the filters.
The air temperature can be increased or lowered (as required) by adding a secondary airflow.
Less dust concentration means less cleaning and longer filter life.
Longer filter life means that filters will not require changing as often, thereby saving time and money.
Particles collected in the cyclone pre-filter will not be contaminated and can be recovered and reused in the process or used in another process.
To find out more about the 4 potential Dangers to the Collectors, please click below: