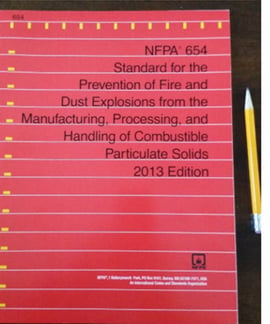 Not only do NFPA regulations require a DHA (Dust Hazard Analysis) to be done on all systems that might have explosive dust, they also require the DHA to be updated every 5 years and whenever the system changes.
Simple Changes in Documentation
The change can be adding , removing, or changing equipment or changes in the material going through the system.
Since a DHA has already been done, the scope of the change is much less. Using the information in the original DHA, the equipment that is being changed can be analyzed to make sure it complies with NFPA. This report will then be added to the existing DHA so that a record of change is documented. Usually the report is considered a mini-DHA or System DHA.
The mini-DHA or System DHA often can be conducted by a 3rd party consultant working with the equipment manufacturer. This usually can be done without a site visit. Aerodyne offers the Mini-DHA/ System DHA for our cyclone separators.
---
Are you in compliance with the 2018 version of NFPA 68?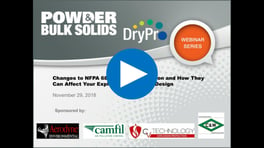 Simply click the button for direct access to the webinar to learn more about how to these recent changes may require modifications to your system.
---
To learn more about which dust collector, please contact our experts at 440-543-7400 or visit our website: www.dustcollectorhq.com.
---
To improve efficiency and safety, there is no substitute for an on-site inspection by an experienced expert. Click below to start with a free 20-minute phone consultation by clicking the button.