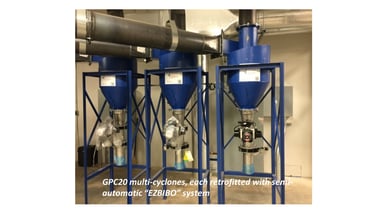 The "EZBIBO" system was originally designed for use with Aerodyne GPC Cyclones to allow for easier bag-in bag-out capture systems for low toxic level pharmaceutical dusts typically encountered with encapsulators, pill coating systems, and some mixing operations. The system allows for capture and bagging of waste material in the pharmaceutical process allowing for weighing and accounting of all materials used in a process, with minimal exposure to operation personnel.
An "EZBIBO" system (Figure 1) mounted on the discharge of an Aerodyne GPC 24 using the "semi-automatic" option with primary valve being pneumatically controlled and the bottom valve being manually controlled. The bottom spool piece is retrofitted using a special rolled edge fitting.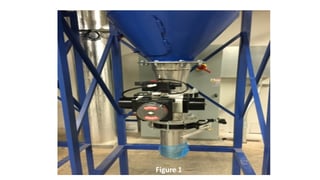 Figure 2 shows the discharge assembly mounted to the bottom of the EZBIBO valve with bagging material in place ready for use. The Uline 10" x 500' antistatic bags fit over the rolled edge perfectly to allow about 20'of bag to be pushed up over and onto the bottom spool piece. A high tension tie-wrap can be placed above ca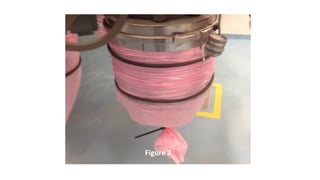 ptured material and clamped tightly using tie-wrap tool after collection. A second tie-wrap is then placed about 2" above the first tie-wrap to allow cutting of the bag material and isolating process to cyclone, while allowing operator to remove the cut bag with material and weigh for accounting purposes.