Do you need to provide product reconciliation or are you spending too much time gathering the product from your dust collector?
Aerodyne's compact cyclones are perfect to place inside your clean room suite! They collect 99% of 20 micron d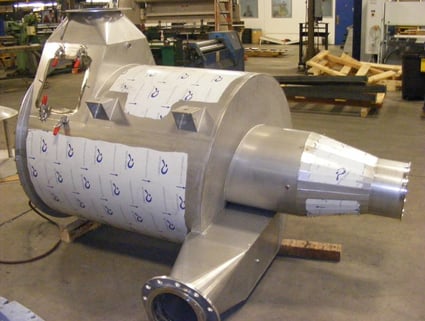 ust. Their compact size allows them to be placed out of the way in the clean room, and since there are 6 models with internal volumes less than 8ft3, minimal additional explosion protection is required.
Along with Aerodyne's EZBIBO valve, this allows on the spot collection of the product to be reconciled in a plastic bag, without leaving the suite. No more leaving the clean room! So you won't have to go through entrance and exit procedures.
Easy Maintenance with Aerodyne Cyclones
Aerodyne's compact cyclones are ideal for applications where you require easy access for cleaning and maintenance. The cyclone are available with quick connect flange and access doors. 304 and 316 Stainless steel construction, with polish is also available. So the next time you require a dust collector where regular maintenance / cleaning is required, think of our compact cyclones.